Welina me ke aloha. Welcome to the Lo'i Virtual Field Trip. This Web site was created for anyone interested in taking a virtual field trip to see what a functioning lo'i is like. The information provided is not only from published material but also comes from those who work daily in a lo'i.
To increase interactivity and enhance your field trip experience, please visit the downloads page and make sure that your computer has all the necessary players to view files that will be displayed within this site. If you are a student, please tell your parents about the field trip that you are about to take.
To navigate through the field trip, simply roll your mouse over the headings located above and click on the desired heading. Another option would be to click on the arrow icons located on the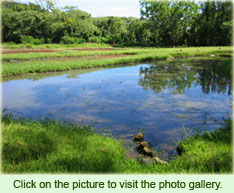 bottom of each page. Along the way, you may also find it a lot of fun to click on the pictures and icons within this site. Now that you are familiar with the navigation of this Web site, let's get started!
This virtual field trip includes multiple lo'is like the Punalu'u Lo'i (picture to the right) on the mokupuni (island) of O'ahu, in the moku (district) of Ko'olauloa and in the ahupua'a (land division) of Punalu'u. Like many remaining lo'i today that are functional, the Punalu'u Lo'i is a result of countless numbers of volunteers who worked tirelessly to restore a cultural treasure.
Currently, there are many different lo'i restoration projects that are ongoing in different areas of the Hawaiian Islands. However, it is important to note that there are many lo'i that are forever gone because of urbanization. For example, the Waikīkī area of O'ahu once contained hundreds of lo'i. Today, none of the lo'i remain.
Lo'i provided traditional (pre-Captain Cook) society with a sustainable source of food, kalo. As time progressed in the Hawaiian Islands, lo'i farming became scarce and crops like rice began to take the place of kalo. If the former lo'i was not replaced by a rice patty or another crop, it eventually became overgrown with other invasive plants.
As you learn about the lo'i, you will hear from some very special guests. They are Calvin Hoe (Cultural Practitioner), Pua Stibbard (Cultural Practitioner) and Kahiau Wallace (Cultural Practitioner). They have made a life commitment to the preservation of one of Hawai'i's most valuable cultural evidences. Throughout the site, short video clips are provided in which these special guests share some personal mana'o, or thoughts, about maintaining a lo'i and how kalo farming has played an important part in their lives. To play a video clip, select your internet connection speed then click on the clip to play.