Changes in He'eia Fishpond
Over the years, there have been many changes that have affected He'eia Fishpond. In prehistoric times, much of the land above He'eia fishpond was used for taro cultivation. Water was drained

away from the stream through canals ('auwai), which kept the taro gardens flooded. Hawaiians cleared the streams and 'auwai regularly so that flood damage would be kept to a minumum when there were heavy rains. In the late 1840s and early 1850s, there was a drastic decrease in the Hawaiian population and this caused a reduction in taro production (Kelly, 1975).
Following the reduction of taro production, He'eia lands have been leased to private businesses for commercial production of sugarcane, rice, pineapple, and the pasturing of cattle. Since He'eia Fishpond is part of the He'eia ahupua'a, changes that occur in other parts of the ahupua'a also affected the fishpond. Commercial production caused a lot of soil erosion and pollution that entered He'eia Fishpond (Henry, 1993).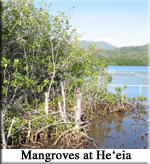 Growth of mangroves have also caused changes in He'eia Fishond. Mangroves are not native to Hawai'i. Various species were introduced from Florida and the Philippines in 1922. By 1923, mangroves began invading estuaries and fishponds. As a result, the stream leading to He'eia Fishpond has been clogged and tangled mass of trunk and roots could be found on fishpond walls (Henry, 1993).
Another change in He'eia Fishpond could also be attributed to dredging in the Kane'ohe Bay area. Between 1939 and 1945, dredging of the Bay was done to accommodate small boat landings, piers, and wharfs. The dredged material was used for landfill at the Kane'ohe Naval Air Station (now Kane'ohe Marine Corps Air Station). Between 1946 and 1948, nine fishponds on the south side of Kane'ohe Bay (total area of almost 80 acres) were filled with dredged materials for urban development (Kelly, 1993).
In addition to all of the changes mentioned above, the threat of urban development has caused major changes in He'eia Fishpond. In 1949, a plan was presented to the City and County of Honolulu to change the zoning area of He'eia from agriculture to urban for marina and residential use. In 1960, Bishop Estate signed an agreement with Thomas McCormack to develop lands in He'eia. In 1964, there was a request to build a golf course. The Bishop Estate trustees revised the plan to eliminate the creation of a marina in He'eia Fishpond. In 1973, He'eia Fishpond was declared a valuable historic site. As a result, in 1974, 55 acres of He'eia fishpond were rezoned from urban to conservation (Kelly, 1993).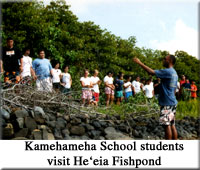 Presently, there are initiatives to restore He'eia Fishpond. Volunteers devote their personal time on designated Saturdays to work on the fishpond. Paepae 'O He'eia, a non profit organization, is also seeking grant funds to establish curriculum for students visiting the site. Currently, there are three Hawai'i Public Charter Schools visiting He'eia Fishpond weekly. They are Ke Kula 'o Samuel M. Kamakau Laboratory School, Hakipu'u Learning Center, and Halau Ku Mana. Students are introduced to concepts of malama 'aina (taking care of the land) and kokua (helping others) while integrating math, science, and history education. Kamehameha Schools students have also visited He'eia Fishpond to help clean up and learn about Hawaiian fishponds.